My friend Fiona from Newflands is guest posting on my blog today to tell us about how you can get your furbaby in the best health possible.
Have you ever wondered how people get their furbabies to look so beautiful in a photoshoot?
It's rather like showing your dog it takes a bit of preparation. First of all, you need to groom the coat and make sure it's up to it's best. It also helps to bath your dog a couple of days before the shoot as this allows the natural oils to be replenished in the dog's coat finishing with a conditioner will help give you the extra shine. But if you want the icing on the cake and you would like your dog to be in peak health condition make sure you've got the nutritional aspects for your animal in tip-top shape.
One of the best ways to do this is through diet we often talked about how our body is a temple and as such we should only put the best into it the same is also to be expected for our fur babies so that we can get the best out. One of the ways you can do this is by adding Newflands Hoki Oil, it's full of high quality omegas which helps support that gloss and shine that all healthy coats should have.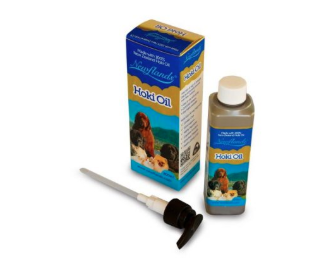 Look after your dog's well being from the inside
No need to worry about too many treats with Health Treats
Newflands Hoki Oil is extremely high in omegas thus enabling the coat to be in its peak condition for that beautiful shine you need when doing a photo shoot. Another aspect to consider is to have a fit dog so that all the muscle structure is at it's peak condition so regular exercise always helps your fur baby to keep in the best possible shape, making sure your furbaby does not have excess weight helps with their overall health, but you don't want to not treat your baby!!! If you use Newflands Hoki treats you're able to treat your baby as much as you like with a good natural product that has very few calories and can also be used to get your furbaby's attention during the photo shoot. You may be asking now what are Newflands Hoki oil and treats.
Newflands is a brand that has been developed by Fiona Robertson and there are a lot of things that come under the umbrella of Newflands. There are of course her products and included in these are the above-mentioned hoki oil and treats along with several other products which can be viewed on her website. If you check it out you'll also find that she has a dog park that you can book just for your dog and utilise the exercise space and during summer the pool to give you a dog that wonderful space it needs away from the city and quiet and keep it fit and healthy almost like a doggy health retreat.
The dog park is booked by the hour and is run on a donation basis. She also has a limited number of dogs that board with her and a limited number of cats who stay in her cattery.
Fiona started the products part of her business by accident when her own dog got sick. Rosie was diagnosed with DCM at terminal heart conditions and so Fiona went looking to give Rosie the best quality of life while she could from here grew her products however prior to that Fiona had always thought about a holistic life or her furbabies and have moved into the country so that they could have the free range they so deserved. Over the years the Fiona has opened up her property to enable others to do the same for their dogs.
Thank you for telling us about your dog park and products that will help us keep our dogs in good healthy shape Fiona! From trying to lead a healthy lifestyle myself I can see why your Hoki oil works and it's so fantastic that you have healthy treats for training and spoiling.
Fiona has several other helpful blogs you might like to read:
Must haves for a new dog owner checklist
Simple Strategies To Keep Your Dog Busy While You're At Work
or perhaps you'd like to read more about What is Hoki?
If you'd like to read more about having a photoshoot with Yellow Lab Dog Photography in Auckland NZ, head here.